Tomorrow we are out and about with friends, so I'm doing Phone Dump Friday a day early!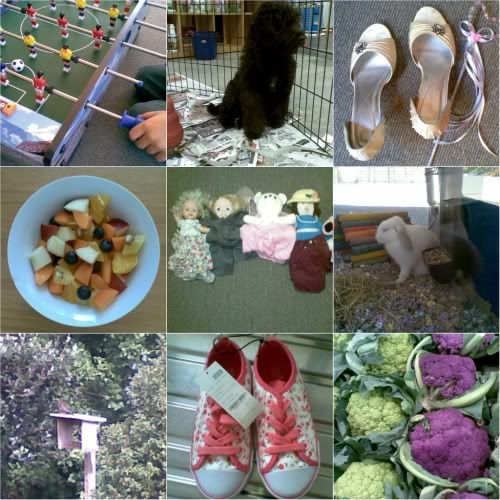 1. Foosball - a fave holiday activity for Mr 5!
2. Cute puppy at the pet shop, visiting the pet shop is another fave holiday activity!
3. Found these last night in Miss Muffet's room - she was playing weddings, not sleeping!
4. Fresh fruit salad for lunch with local blueberries and strawberries, yum!
5. Miss Muffet's fave thing to do - dress her dolls and teddies in her clothes!
6. Another cute, fluffy thing at the pet shop!
7. First ever bird to go on (ok so it's not in there, but is on there) our bird house that the Mr built about 3/4 years ago! He even puts food out there, and they usually aren't tempted by it!
8. New shoes for Miss Muffet - thanks PP sale!
9. Purple and green cauliflower - awesome! Tastes good too!