We went for a walk to the park today, and I wore my boots for the first time this year. It was freezing and really, really windy! The kids rode their bikes, while The Man and I wondered around, looking at the destruction of last night's weather bomb.
The kids sailed leaf boats down the stream, and into the pond.
I tried to take some nice pics of the kids, they were far more interested in their leaf boats. But then Mr 5 wanted to take a pic of The Man and I, so we let him. This is what we got, I think it's kind of cute, even without our heads!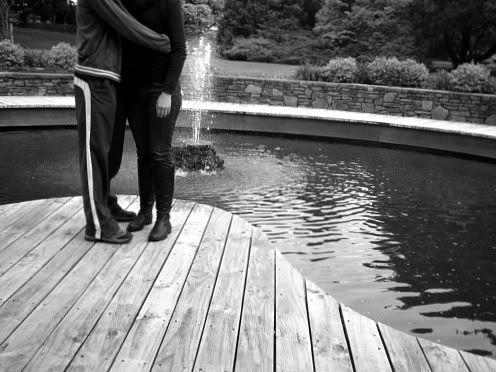 I am currently wrapped up in 2 layers of merino, a cotton jersey and my lovely, fluffy dressing gown to keep warm, I cannot believe how freaking chilly it is on the 3rd of March for goodness sakes.
We had pumpkin soup for lunch today, which was very nice. And The Man made homemade pizzas tonight for dinner, they were awesome. Although I did get a little tired of all the questions coming from the kitchen while I was trying to read my book. I gave up in the end.
I hope everyone is having a great weekend, keep warm!